News
Letter three…Dear Drugs,
10.17.20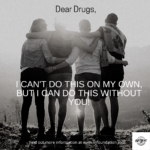 Team LRJ has something to say to Drugs. We decided to write a few real talk letters to let drugs and substances know they do not have a place in our lives. Our mental well-being means more. Our hope is for you to connect to each letter and turn your thoughts to an optimistic outlook to a drug-free lifestyle. LRJ is here to help move you in that direction. Please reach out today if you or someone you know needs support.
Letter three.
                                                       Dear Drugs,
                       "I can't do this on my own, but I can do this without you."
                                                                                                                                                     Sincerely,
                                                                                                                                                      The New Me
Did you know that a connection to others is mentioned in at least five of the ten main protective factors that help teens avoid spiraling into substance abuse? Having a healthy connection to parents, peers, a faith-based organization, their local community, and positive self-esteem can help teens refrain from using drugs. The same entities can also serve as a tribe to encourage abstention once a teen has decided to be clean. NIDA (2020)confirms, "Because addiction can affect so many aspects of a person's life, treatment should address the needs of the whole person to be successful. Counselors may select from a menu of services that meet their clients' specific medical, mental, social, occupational, family, and legal needs to help in their recovery.
Reference: National Institute on Drug Abuse, 2020.
For more insight and support please visit LRJ's linked tabs to our website:  Programs, Referrals, Videos, and Articles.
Stay connected to social media for daily inspiration and connection.  @LrjFoundation: Facebook, Instagram, and Twitter.
LRJ Foundation is a 501 (c)(3) non-profit organization. Thank you to our sponsors and donors who support the great work in mental health and wellness programs and services. Contributions directly support educational programs in schools and your community. For more information or to donate click here.