Elementary
Elementary Presentations Educates Grades 2-5th
Healthy behaviors influence happiness and develop social and emotional learning (SEL) competencies for elementary school-age children.
Having an open discussion with students on how to manage emotions, reduce stress and fear, be a good friend,  hurtful words, increase empathy and kindness and ask for help when they are struggling and sad.  In addition, if there is a particular issue or concern that your school has experienced, that needs to be part of our presentation, we can tailor it to your individual needs.
Promoting a child's mental health helps them relate well with others, provides a sense of security, and fosters their growth both at home and in school. In addition, awareness and early intervention have been shown to help prevent or delay the consequences of mental illness (NAMI, 2016).
The LRJ Foundation recognizes the importance of mental health education and awareness in children. Our programs for this distinctive age group aim to build a child's confidence and competence, which is the foundation of strong self-esteem promoting help-seeking behaviors.  Our programs are built upon evidence-based research and the experience of licensed mental health professionals. Aspects of our 13 and under programs include small groups to increase individualized attention, tangible and age-appropriate activities, exercises used to help children identify a spectrum of emotions and increase self-esteem to ask for help when they need it. Practicing healthy coping skills that can last a lifetime of good mental health.
The 35 – 40 minute LIVE interactive presentation is best held in a smaller group setting, with less than 100 students per session and a small group classroom is preferred. The students that have been a part of our presentations enter singing and smiling as our intro music is playing, they are attentive and engaged throughout, and leave with giving hugs to the presenters as they open up about their feelings and leave with some pretty fun giveaways!!
Introducing LRJ's New Elementary Presentation; "Connect & Rebuild" Phase I & Phase II
Phase I: Introduction to Emotions, Feelings & Empathy!
Laying the foundation to an understanding of how to manage feelings by recognizing the range of emotions in oneself and in others. Students will learn how empathy can support others and offer kindness to create better friendships and reduce conflicts
Phase II: Empathy For Others & Speaking up with Confidence!
Increase efforts to build students' skillsets for empathy and assertiveness will increase their abilities to care for and about themselves as well as others; and they will be better able to embrace the challenges and opportunities that lie ahead collaboratively, responsively, and calmly.
Click here for more information about Connect & Rebuild and email LRJ today at, TeamLRJ@LRJfoundation.com
Bully Education Presentation- Be The Change
Bully Education Presentation- "Be The Change"  for Middle School- High School-aged Students. More the 160,000 children a day miss school in fear of  being bullied
1 out of 4 kids is bullied or abused by another youth. 1 out of 5 admits to being a bully. There are short term and long term psychological effects of bullying. From feelings of sadness, isolating themselves, health problems to increasing depression, anxiety, and worst yet, higher rates of suicide. LRJ's interactive Bully Education Presentation, " Be the Change" speaks to both the "Bully" and " The Victims". Both are involved and both are important. Key topics discussed and demonstrated in the 35-45 minute presentation. Teacher and Parent Versions are available.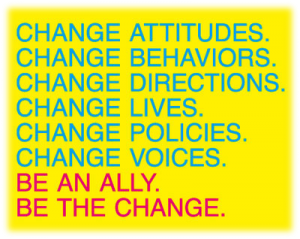 Types of Bullying -Physical, Verbal, Social Media  & Cyberbullying;
Who's at risk and who is more likely to bully others
Effects of Bullying: Bullying can affect everyone—those who are bullied, those who bully, and those who witness bullying.
Interactive activities performed
Meaningful short 2-3 minute video clips.