Wear Yellow Day 2022
Wear Yellow and Join the Movement
LRJ Foundation is Recognizing our Wear Yellow Day on select days in September with several schools and businesses  supporting positive mental health throughout the entire month of September!
Together we can RISE ABOVE the stigma of Mental health and recognize suicide is serious and preventable.

LRJ's t-shirt orders are due by August 12th. Links below to order.
MetLife- Clark's Summit T-shirt Order Form, Orders Due by August 12th Click here
Krispy Kream Store- Clark's Summit, PA, Orders Due by August 12th Click here.
LRJ Foundation General Public  T-shrit Order, Orders Due by August 12th, click here 
Gainesboro Elementary School, Orders Due by August 28th , click here.
Valley View High School Orders Due by August 12th, Click here.
Lakeland Jr./Sr. High School, Orders Due by August 12th, Click here.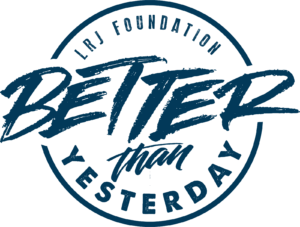 September 10th, 2022, is  World Suicide Prevention Day and National Suicide Prevention week is recignized September 4-10th
LRJ Foundation's Educational Chapters will be hosting our Wear Yellow day. This is open to everyone anywhere and everywhere to join in!
Special thanks to a few of our partnered schools and businesses who hosted a district-wide dress-down day collecting donations and welcoming positive support and discussion around mental health; Valley View and Lakeland School District, Pennsylvania, Gainesboro Elementary, Winchester Virginia, MetLife ClarksSummit/Scranton, PA and all those that wore yellow in promotion of the #BetterThanYesterday Movement to Better Mental Health.
LRJ Foundation has partnered with the City of Milton, Georgia for the third consecutive year for a month-long initiative of education and community connection to resources and support. Check out their dedicated website tab to Mental Wellness, click here.
2022 Milton Mental Wellness Webinar 

Support Video , If you are struggling , you are not alone!

You can watch the 2020 Milton Mental Wellness Webinar by clicking HERE:
We hope your school and business will wear yellow, and choose to donate to the LRJ Foundation to help us continue our effective work in the schools and community. Our mission is to provide interactive educational seminars on suicide prevention and mental wellness, giving Hope, Guidance, and Education to youth and adults and the resources they need to choose LIFE.
Contact to join the roster as a participating school/business/group. Donations can be made on our Donation tab, although, your participation in the Wearing Yellow movement, is what's so special! Together we can reduce the stigma around mental health, one yellow shirt at a time.
You can make a difference. #WearYellowLRJ #BetterThanYesterday