Youth Leadership and Wellness Summit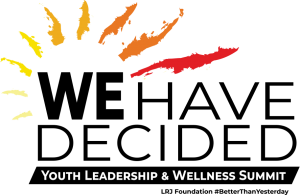 UPDATE:  We are excited to announce we are planning for the 2021 October Virtual Summit!!
We are currently seeking partnerships, sponsorships,  seeking speakers, and educational presenters to teach breakout sessions. 
We can't do this without you! Building youth to become resilient, empowered, and supported, with strong mental wellness takes an entire COMMUNITY!
Contact Teressa, for more information. TeamLRJ@LRJFoundation.com
2021 Georgia Summit Participants: Along with Webb Bridge Middle School Assistant Principal Carmen Hurst, we have teamed up with 5 local Middle schools and their Assistant Principals, in the Northwest Learning Community (NWLC) of Fulton County schools, to serve a selection of 7th & 8th-grade students from each school. We are potentially expanding into Zones 6&7 to host more middles schools this year. Stay tuned for more updates!
What to know more about this great Youth leadership event?  Check out the highlight video and details below.
2020 Event details:
The experience will shape youth leadership skills to instill confidence, build resilience, manage and understand life stressors, learn empathy as a leader, and reduce barriers to help-seeking behaviors to best support their overall mental wellness and others.
Our Keynote speaker and musician performer, Saul-Paul, A Musician with a message. For the last decade, SaulPaul has earned an international reputation as a "Musician with a Message" known for entertaining, inspiring, and empowering audiences across the globe. You can find more about him here, http://saulpaul.com/ 
Paul Gilbride is the owner of Gilbride Corporate Coaching, LLC where he works with individual contributors, teams, and organizations to navigate issues such as leadership, team effectiveness, career navigation, and creating meaningful and purposeful lives both in and out of work.
Much of his leadership philosophy aligns with the work of Brené Brown and is one of approximately 400 professionals trained by Brené to facilitate her leadership work.  You can find more about Paul here,
https://www.gilbridecc.com/
LRJ Foundation: Mental Wellness Education to provide educational workshops on Anxiety, Social Media, and Mental Health. www.LRJFoundation.com
Jeannine Jannot- Author, The Disintegrating Student: Super Smart & Falling Apart, and Academic coach: https://www.jeanninejannot.com/home
Contact Teressa for more information and how to add value to this great event! TeamLRJ@LRJFoundation.com
Sponsored by :



Visit our website to learn more about LRJ Foundation's
#BetterThanYesterday programs serving our schools.