News
Pioneers of Mental Health In the Black Community
01.31.21
Celebrate Black History Month with the LRJ Foundation.
African Americans have played an essential role in the development and progression of the United States for more than four hundred years. Their contributions have been invaluable in every aspect of our lives including mental health. LRJ is honored to present to you an overview of the dedication, persistence, and brilliance of these pioneers in mental health.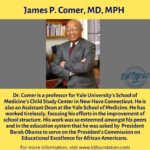 Written by, Martina Watson, LPC.
Join us all February for Black History Month and much more!
---
For more insight and support, please visit LRJ's linked tabs to our website:  Programs, Referrals, Videos, and Articles.
Stay connected to social media for daily inspiration and connection:
@LrjFoundation: Facebook, Instagram, and Twitter.