News
Disproportion Between Black Students And Black Teachers: Education For Understanding
02.08.21
Black History Month With The LRJ Foundation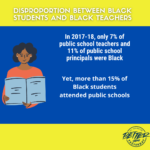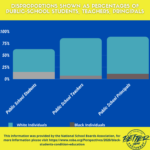 These graphs depict the disproportionate numbers of African Americans students to teachers, admin, and leadership who are African Americans as well. From viewing the graph, a number of implications can be made. First, African American students are less likely to encounter African American leaders and teachers in an environment where they already spend a significant amount of their time in their formative years. Secondly, because of this, the likelihood of African American students having positive influences (i.e., role models) and exchanges with African American educators and leadership is greatly reduced and limited. Unfortunately, what this means is that African American students are more exposed to biases, prejudices, and traumatic racism, which go unchecked, are unfiltered, unwarranted, and most likely severely under-reported. Because of this, African American students may not only experience trauma from home but also at school.
This, in turn, may leave many students in a never-ending cycle of abuse, negligence, and trauma. Furthermore, we know that trauma has a profound effect on the way the brain works as well as how proficient it is at processing, absorbing, and retaining information.
All three of these capabilities are paramount to doing well in school. With that being said, it's no wonder that the success rate and educational promotion of African American students from one grade to another as well as to graduation is abysmally lower than that of Caucasians and even Asians. Furthermore, with these implications and especially the unseen and under-reported incidents of racism by Caucasian teachers toward African American students, these statistics also highlight another troubling aspect.
There is a workforce of educators who are neither multiculturally trained nor multiculturally competent to effectively interface, educate, and lead African American students through to the academic finish line successfully. Yet through efficient training and a commitment to continued self-examination and awareness, educators and administrators have the ability to be the kind of allies of African American students and partners to African American families that can both impact a student's academic trajectory, but also help transform local neighborhoods and communities.
For some African American students and their families education can mean the difference between lifting their families and successive generations out of a never-ending tsunami of generational poverty or dooming the next generation and many more after that, to the same if not an even worse fate.
Design by: Severia Giordiano
Written by: Martina Watson, LPC
---
For more insight and support, please visit LRJ's linked tabs to our website:  Programs, Referrals, Videos, and Articles.
Stay connected to social media for daily inspiration and connection:
@LrjFoundation: Facebook, Instagram, and Twitter.