News
How To Seek Out A Culturally Competent Health & Mental Health Care Provider
02.17.21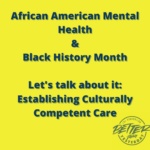 For many years The United States has been referred to as a "melting pot", and in more recent years we have been called a "salad bowl". I find the term "salad bowl" to be a little more inclusive and better representative of the multicultural society we live in. As we grow in society it is becoming increasingly important to establish culturally competent health care. When looking for a new health care provider it is extremely important to do your research and find someone who makes it a priority to be culturally sensitive before becoming a patient. A culturally competent provider should respect your beliefs, values, and ethnicity. 
A few tips to leave you with: 
Research providers:
– Ask a family member or friends for recommendations 
– If you are going through your health care insurance call and ask for a provider that aligns with your needs. 
Ask questions! 
– Do not be afraid to ask them about their experience with your culture or background. 
– Ask if they are familiar with your beliefs and values, and how that will be incorporated in your care.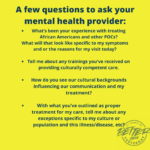 ---
For more insight and support, please visit LRJ's linked tabs to our website:  Programs, Referrals, Videos, and Articles.
Stay connected to social media for daily inspiration and connection:
@LrjFoundation: Facebook, Instagram, and Twitter.