News
Being Inclusive And Social Anxiety, What Does It Look Like?
03.16.21
Being Inclusive And Social Anxiety, What Does It Look Like?
By, Emily Carlson
Struggling with social anxiety and being inclusive…what does this look like?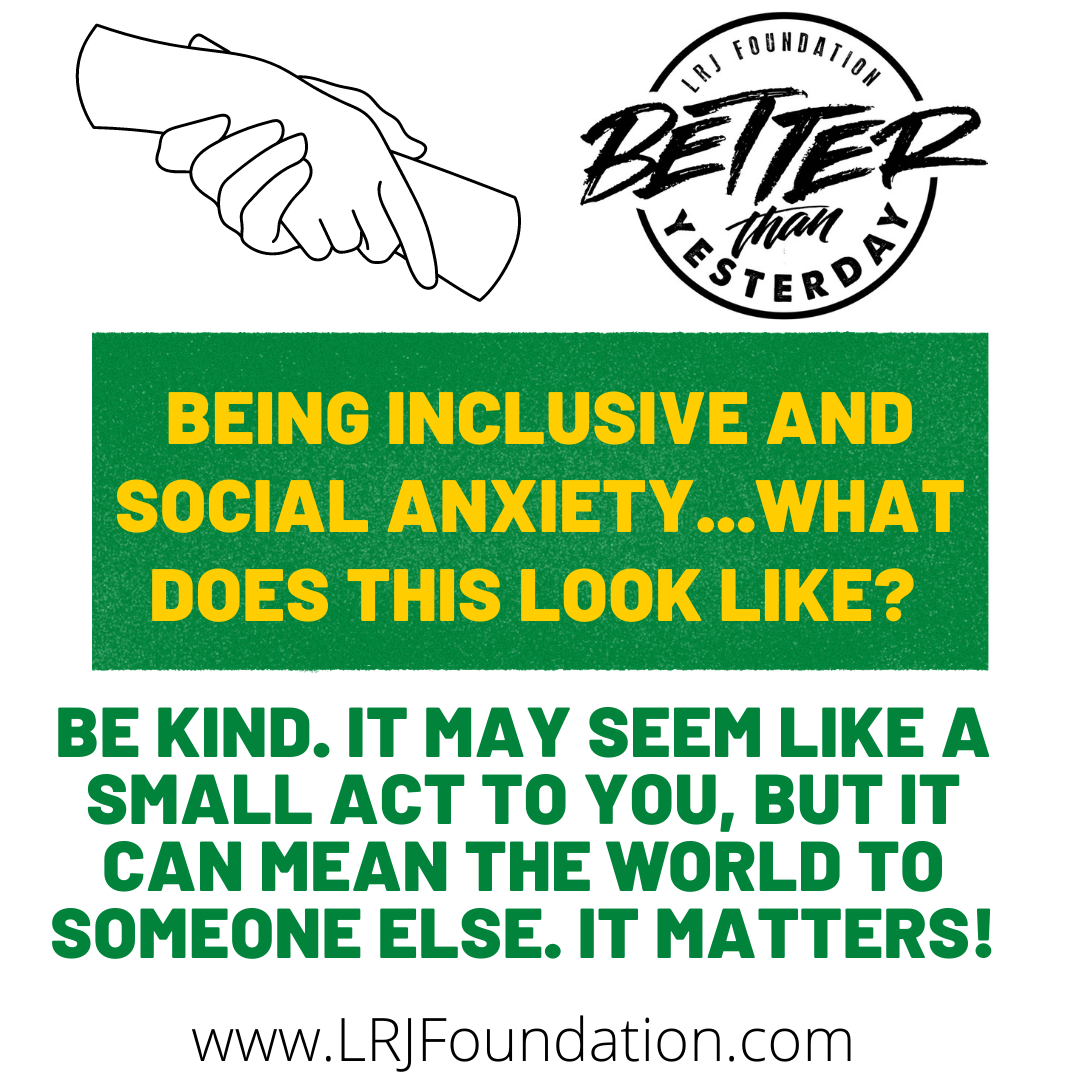 It may seem like a small act in your eyes, but being inclusive means the world to people. You would be surprised about how meaningful it is. When you are struggling with mental health issues, you often feel detached and like you are all alone. It is hard to reach out to people and to take initiative when you want to be around people and feel a part of something.
Apply living with kindness to your life because people remember that. People will always remember how you treated them. Including someone to go to dinner, go on a walk, inviting them over to sit with you at the lunch table…little things like that matter and are very magnified in many people's brains. To me, inclusivity is a big part of suicide prevention and mental health awareness because in all aspects of life people deserve a seat at the table. I wrote a blog recently that talked about how many people do not reach out to struggling friends because they do not want to say the wrong thing. If you can't do it with words, do it with actions because it really means more. I think language is a big thing, especially for overthinkers. When making plans, people will say, "you can come if you want" and when you have anxiety it may feel questionable. Saying "we want you to come with us" or something like that can really make a big difference and pushes someone to join in because they feel more accepted and included. If you are trying to include someone, it is much appreciated to them, but sometimes the person struggling may say no.
A lot of times with depression and anxiety, it is easier to cancel because you do not have to overthink every little detail of the social outing. I am someone that likes to be alone. A lot of times people like me need a kick in the tail to go out and do things so we do not isolate ourselves. But I think it is important if you are a friend trying to push your struggling friend to do something, you have to know when to read the room and back off a little. Sometimes we cannot drive ourselves to get out of bed and go be social. So if a depressed and anxiety-ridden person says no to going out, it is not something personal. It is one of those things that comes with social anxiety. If you are someone like me that struggles with social anxiety, I would try and pick two things a week to go to whether it is coffee with a friend or maybe you have a small group at church you can attend. I completely understand the draining of our "social battery" because when we are not used to being around people for long periods of time, we feel like we are all set up for the next few months because we did one social thing.
Friends being inclusive is great and makes you feel good when they want you to come along, but it is also up to us to try our best to fight the urge to push it off. I had my friend's birthday dinner this past week for example and I was very anxious to go. This is a friend that is near and dear to me and someone that has included me a lot ever since I have known her, so I definitely had to compartmentalize my struggles for an evening. In the end, I am happy that I went and it means a lot to people who know you struggle when you attend important events or milestones to them.
Thanks for reading, we hope you find comfort and connection in sharing Emily's journey, hope, and coping skills in mental wellness! To learn more about LRJ Foundation, please visit the following links:
---
Stay connected to social media for daily inspiration and connection:
@LrjFoundation: Facebook, Instagram, and Twitter.