News
Recognize Why Children Cry? Angry, Sad, Overwhelmed or Needs Something or Wants Attention?
08.25.21
"This week we're continuing to talk about the "B" word—behavior; and this week is a doozy because it's all about ANGER! The results of a child's anger can be unpredictable and unpleasant. Yet it is one emotion children display which can be easier to trace than sadness!
Children become angry for a number of reasons. What's important to remember is that a child's anger should never be punished because anger is an emotion that lets us all know that something is wrong. What a child chooses to do with their anger, (ie their behavior) can help you determine what steps you need to take next.
---
Click here
, to download the FREE PDF of educational infomation to understand more on emotions that lead to crying and how to best support our children.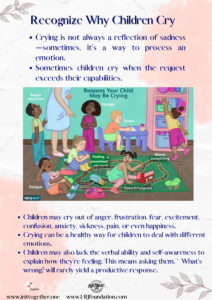 ---
For more insight and support, please visit LRJ's linked tabs to our website:  Programs, Referrals, Videos, and Articles.
Stay connected to social media for daily inspiration and connection:
@LrjFoundation: Facebook, Instagram, and Twitter.
Sponsored by: MetLife & Cody's Care Show