News
Teen Depression. What To Know. Education is Prevention.
10.27.21
Teen depression is a serious mental health problem that causes a persistent feeling of sadness and loss of interest in activities. It affects how a teen thinks, feels, and behaves. It can interfere with daily life, lead to suicidal thoughts & behavior, and go on to affect them throughout life.
We invite you to stay informed, ask your teen questions, show empathy, listen not lecture, and affirm their feelings. Reach out to a mental health professional for more support and guidance.
Click Here For Resources Locally and Nationally.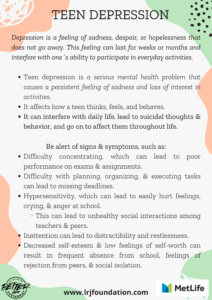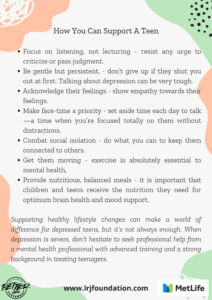 ---
For more insight and support, please visit LRJ's linked tabs to our website:  Programs, Referrals, Videos, and Articles.
Stay connected to social media for daily inspiration and connection:
@LrjFoundation: Facebook, Instagram, and Twitter.
Sponsored by: MetLife & Cody's Care Show