News
#BetterThanYesterday. 5 Signs that your child may be being bullied.
09.13.17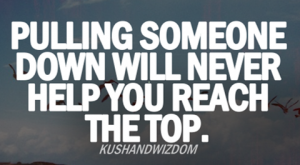 September's week #2 of awareness.  LRJ will feature a new blog with educational tips on prevention. These concepts are to improve your mental and physical health, while focusing on wellness and empowerment.
Children and adolescents who are bullied are at increased risk for mental health problems, including depression, anxiety, headaches, and problems adjusting to school. Bullying also can cause long-term damage to self-esteem.
1 out of 4 kids is bullied or abused by another youth.
1 out of 5 admits to being a bully
5 signs that your child may be being bullied.
1. Changes in appetite. Increases in binge eating because they are fearful or not eating lunch at school.
2. Unexplained injuries.
3. Decline in grades, not wanting to go to school.
4. Loss of friends or avoidance of social activities.
5. Drastic behavioral changes: running away, self harm or talk suicide.
They may resist or even seem angry but talking to our children everyday about their day will help identify issues they are facing. Many children who are bullied are afraid to tell, open dialogue on a daily basis helps make it easier.
Written by: Sanona Williams, MS, LPC – LRJ Foundation Georgia Lead Presenter.
From more detailed information on how Bullying stalls kids growth and the relationship between Bullying and mental health, please visit the link below.
#BetterThanYesterday #MentalHealthMatters
http://www.lrjfoundation.com for more information about bringing our interactive programs to your school or community!